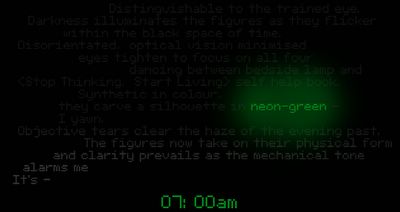 This poem was inspired by the monotonous regime of early rising with the aid of an alarm clock. That hazy, vague time when one is between sleep and awake and the mind plays tricks on you. With this visual, i have tried to recreate this feeling in a 2d form.
To understand what i mean, it is best viewed on a
backlit laptop computer.
Click the image or download it as it must be viewed at 100% and depending upon how you view the screen, different elements take priority of your visual field, creating this 'hazy' effect. This effect is created because of the horizontal black 'scan lines' across the image.